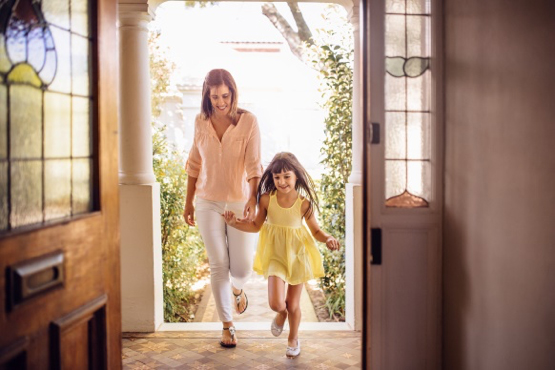 If you're tired of renting and want to start making monthly payments towards your own investment, it may be time to buy a home in [area]. But how can you know if you are ready to begin the process? Answer these 5 questions to find out if now is the right time for you to buy a home.
1. How do my finances look? Do you have a stable, consistent income? Before you begin looking for a home, you should be confident and comfortable with your finances. Buying a home is huge financial decision. Student loans, car payments, and credit card debt will all impact what kind of mortgage loan you qualify for. You want to be sure you can handle those payments along with a new monthly mortgage payment.
2. Can I afford all of the costs associated with buying a home? Purchasing a home comes with many costs beyond your new monthly payment. Most likely you'll need money for a down payment and additional closing costs prior to getting your new keys. In addition to preparing for a mortgage payment, spend some time bulking up your savings to prepare for all of the costs associated with closing your loan.
3. How long do I want to stay in this city? The longer you stay in your home, the more equity you will have in the property when you decide to sell and move. It is generally recommended to see yourself in the same area for at least 3-7 years if you want to buy a home there.
4. Am I prepared to cover any unexpected bills that come with being a home owner? When you're renting a place and something goes wrong, the solution is often only a call to your landlord. If a pipe bursts in your rented apartment, you are not responsible for getting it fixed. When you're a homeowner, on the other hand, you are responsible for anything that may go wrong. If there's a leak in your roof, an electrical issue, your washer overflows—it is up to you to find a solution.
5. How is the market in my desired neighborhood? If you're working with an expert real estate team, they will be able to inform you on the market conditions for the neighborhood you're interested it.
Of course life is unpredictable and there are always factors outside of your control. But, you want to be as honest and realistic as you can be when you're deciding if you are ready to purchase a home. Once you've considered all of these questions, if you feel prepared to purchase a home, then it's time to start your home buying process!
Call me today at 602-900-1319 to begin the process and I can help you get financially prepared to buy your first home in [area].
Categorized in: Real Estate